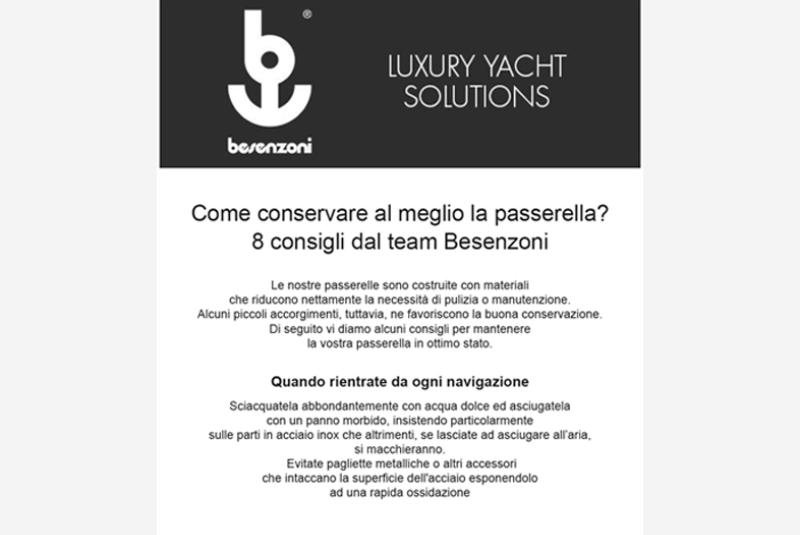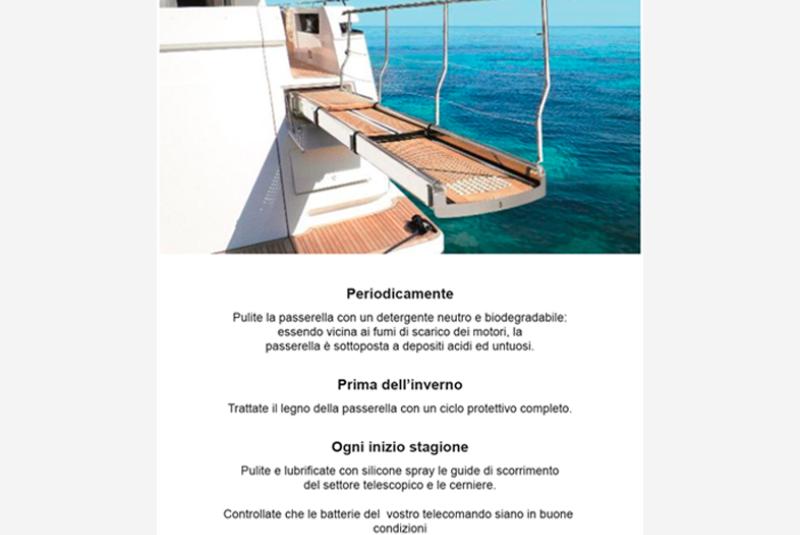 Newsletter: tips for the maintenance of the gangway
How to keep the gangway at its best? 8 tips from team Besenzoni
Our gangways are produced from marine grade materials that reduce the need of cleaning and maintenance.
Anyway, some little precautions will facilitate the best conservation. Here, we give you some advices to get the best from your gangway.
Every time you return to harbour
Wash it down with abundant fresh water and dry it with a soft cloth, having attention for the steel parts. lf left drying without being wiped down, the stainless steel can be subject to corrosion. Avoid cleaning with materials that may scratch the stainless steel surface and cause corrosion.
Periodically
Wash the gangway with a neutral biodegradable detergent: the gangway is subject to acidic and greasy deposits being exposed to engine exhaust fumes.
At the beginning of winter
Treat the wood of the gangway with a suitable protective product.
At every start of the season
Clean the extending section guides and the hinges and lubricate them with a suitable spray product.
Check the batteries in your remote control are in good condition.
At least once per year
Let protect the walkboard with a suitable paint, to avoid water infiltrations and swelling of the wood underlied
Let check the oil level: if it's below the minimum level, refill with OIL OSO 46 or similar.
Last but not least, remember:
always ask specialized technicians to perform extraordinary maintenance! Consult the map to find out the closest one. ASSISTANCE SERVICE MAP