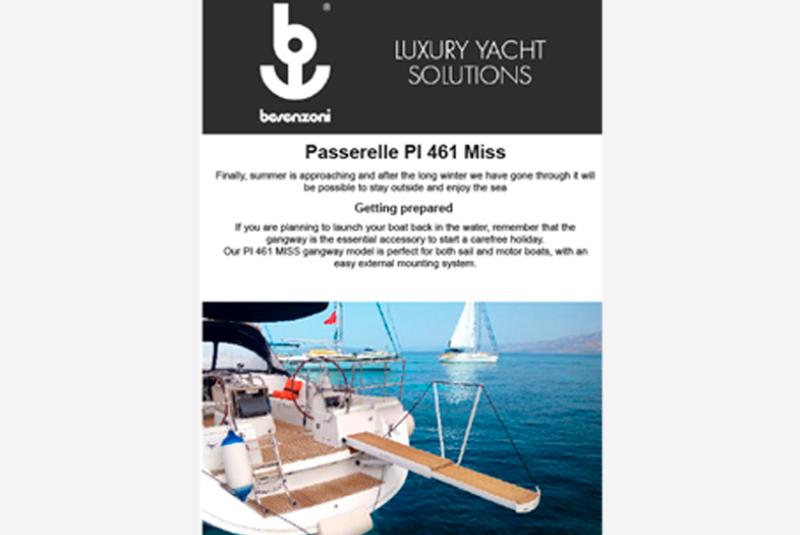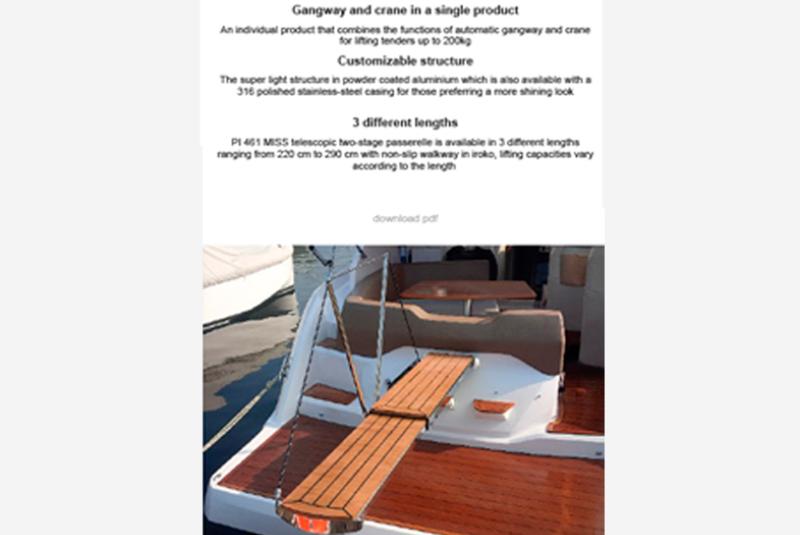 Newsletter: Passerelle PI 461 Miss
Passerelle PI 461 Miss
Finally, summer is approaching and after the long winter we have gone through it will be possible to stay outside and enjoy the sea
Getting prepared
If you are planning to launch your boat back in the water, remember that the gangway is the essential accessory to start a carefree holiday.
Our PI 461 MISS gangway model is perfect for both sail and motor boats, with an easy external mounting system.
Gangway and crane in a single produc
An individual product that combines the functions of automatic gangway and crane for lifting tenders up to 200kg
Customizable structure
The super light structure in powder coated aluminium which is also available with a 316 polished stainless-steel casing for those preferring a more shining look
3 different lengths
PI 461 MISS telescopic two-stage passerelle is available in 3 different lengths ranging from 220 cm to 290 cm with non-slip walkway in iroko, lifting capacities vary according to the length. Download PDF
Easy to use
The hydraulic operation is activated by remote or touchpad panel control to operate from the cockpit.
The gangway can also be equipped with a bluetooth receiver to be connected to the Besenzoni Control Device APP and managed directly from your smartphone.
Info and details
For further information please contact us directly at info@besenzoni.it or click here