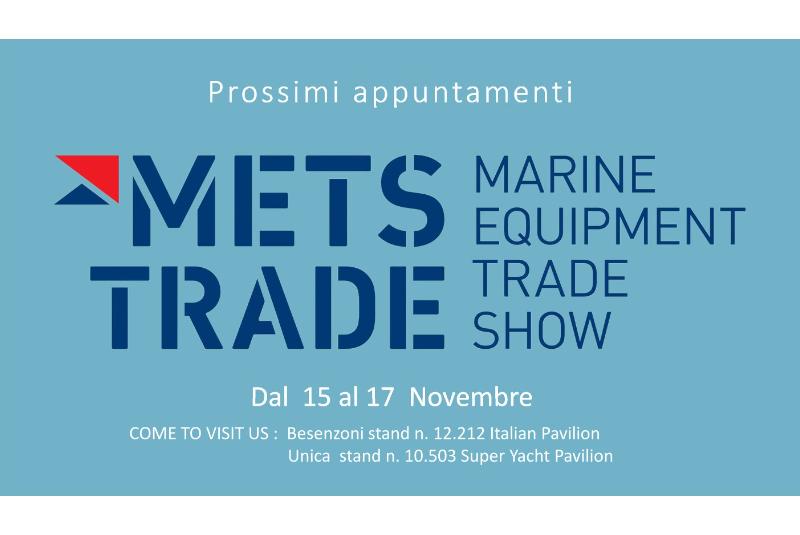 Mets Trade 2023
Besenzoni confirms that it will be back this year for METS, the most prestigious boat show for yachting equipment, in Amsterdam 15 to 17 November with a double locations : in the Italian Pavilion and the Superyacht Pavilion.
In the Superyacht Pavilion, Besenzoni will display top-of-the-range solutions from its Unica, or Unique Yacht Solution, range for large yachts and one-off solutions. Not to be missed are the company's iconic helm seats, among Besenzoni's most popular products for long-range sailing, permitting a wide range of movements and adjustments to guarantee ergonomic wraparound seating. Besenzoni's latest creations featuring attractive design and guaranteed comfort include the P 463 Shark armchair with a fixed backrest, which can easily be installed on manually sliding supports or directly on a special supporting surface to adapt to the space available on the boat. A huge range of possible combinations of leather and marine vinyl upholstery is available.
Also on display will be a gangway with a Rope Deck boardwalk made of 100% polyester monofilament cordage, which equals teak wood in strength, durability and beauty but represents a more ecological choice, under the company's increasingly important policy of reducing its consumption of natural resources.
The company's many products for vessels of all kinds on display in the Italian Pavilion will represent all the tradition and innovation that has been the lifeblood of the brand for over fifty-five years, successfully combining a special focus on design and aesthetics with non-stop research and development.
New products on display will include two electric gangways, the first of which is an extension of the BeElectric range, which now ranges in length from 1 metre to 4.5 metres, while the is second an innovative gangway designed specifically for outboard boats, whether newly built or already in use. Alongside these, Besenzoni will display LaScala, an electric gangway of stunning width.
The stand will also feature the star of the autumn boat shows: a new ladder and platform in the Oceano series, primarily an embarkation/disembarkation and bathing ladder, as it is designed to allow easy access to the quayside and the sea, guaranteeing simple, safe boarding.