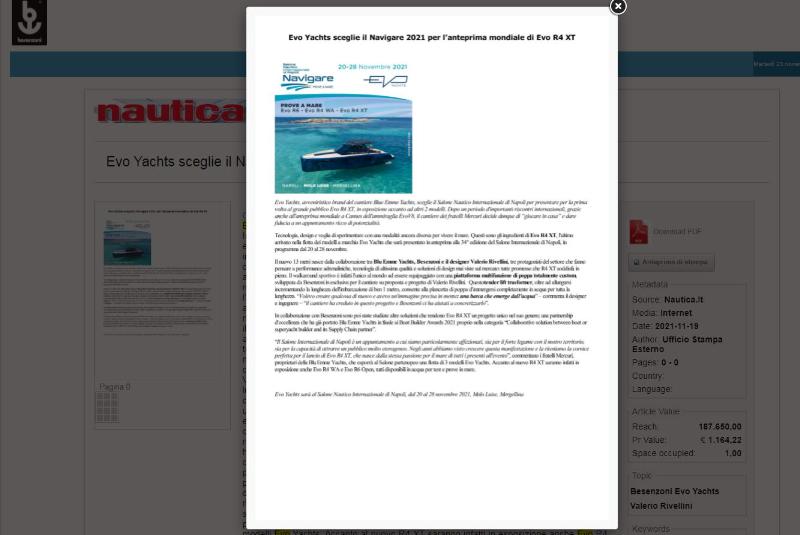 Evo Yachts chooses Navigare 2021 for the world premiere of the Evo R4 XT _ Nautica.it
Evo Yachts, the futuristic brand of the Blue Emme Yachts shipyard, chooses the Naples International Boat Show to present the Evo R4 XT to the general public for the first time, on display alongside 2 other models. After a period of important international feedback, thanks also to the world premiere in Cannes of the flagship EvoV8, the Mercuri brothers' shipyard therefore decides to "play at home" and trust in an event full of potential.
Technology, design and the desire to experiment with an even different way to experience the sea. These are the ingredients of Evo R4 XT, the latest addition to the fleet of Evo Yachts brand models that will be previewed at the 34th edition of the Naples International Boat Show, scheduled from 20 to 28 November.
The new 13-meter is the result of the collaboration between Blu Emme Yachts, Besenzoni and the designer Valerio Rivellini, three protagonists of the sector that suggest adrenaline-pumping performance, high-quality technology and design solutions never seen on the market: all promises that R4 XT fulfills in full. The sporty walkaround is in fact the only one in the world to be equipped with a totally customized multifunction stern platform, developed by Besenzoni exclusively for the shipyard on the proposal and design of Valerio Rivellini. This tender lift transformer, in addition to lengthening by increasing the length of the boat by a full 1 meter, allows the stern platform to immerse itself completely in the water for its entire length. "I wanted to create something new and I had a precise image in mind: a boat that emerges from the water" - comments the designer and engineer - "the shipyard believed in this project and Besenzoni helped us make it happen".
In collaboration with Besenzoni, other solutions have been studied that make Evo R4 XT a unique project of its kind; a partnership of excellence that has already brought Blu Emme Yachts to the final of the Boat Builder Awards 2021 in the "Collaborative solution between boat or superyacht builder and its Supply Chain partner" category.
"The Naples International Show is an appointment we are particularly fond of, both for the strong link with our territory and for the ability to attract a very heterogeneous audience. Over the years we have seen this event grow and we believe it to be the perfect setting for the launch of Evo R4 XT, which was born from the same passion for the sea as everyone present at the event ", comment the Mercuri brothers, owners of Blu Emme Yachts, who a fleet of 3 Evo Yachts models will exhibit at the Neapolitan Boat Show. In fact, alongside the new R4 XT, Evo R4 WA and Evo R6 Open will also be on display, all available in the water for tests and sea trials.